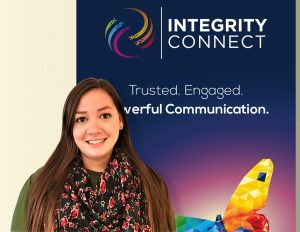 Last month, Integrity Connect welcomed its new Customer Services Account Manager Rayne Comer. Rayne brings with her an impressive wealth of customer-focused experience in the print, mail, and communications sector, with almost a decade specialising in hybrid mail.
Shortly after joining Connect, Rayne commented:
"The new role offers a new challenge, and it's definitely a challenge I'm looking forward to meeting. Integrity Connect clearly has everything set-up to scale and grow – it's exciting to be part of such an ambitious and dynamic team."
Integrity Connect's Managing Director Chris Walton shared his thoughts on the new appointment:
"We were delighted when Rayne applied for the position within our Customer Services team – her CV ticked all our requirements . Rayne's experience and confidence shone through at the interview where we knew there and then that if she wanted the job, it was hers. Thankfully, she did accept and since starting her role in mid-July, she has impressed and fitted straight in. Rayne will soon develop into another 'star' in an already talented Customer Services team."
Rayne's role will primarily be to support one of Connect's key customers with their Clarity Mail service, both directly engaging with their clients on queries and training, as well as supporting their team with job management internally.
To find out more about Rayne's new role, or how the rest of the Integrity Connect team can help solve your business challenges, please get in touch.
Share This Article